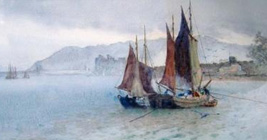 Fine Quality Original Oils, Watercolours, Prints & Objets d'Art
View All
For Sale Items, Total : 19
Page :
1
2
Next
Taken to Another Place, a Limited Edition Etching signed by the artist, one of 200, (polymer gravure on 144gsm Zerkall paper), Sheet size 37.5 x 45 cm. Presented framed and glazed in a white 'box' type frame. Size framed 6.05 x 53 cm. In perfect condition.
Sheet size 37.5 x 45 cm.
Price £1200
Include delivery in the UK
William Lyons-Wilson (1892-1981) View Across the Exe Towards Powderham A fine and atmospheric watercolour painting dated 1955 by this popular West Country artist. Inscribed and signed by the artist.
14 x 19ins
POA - please phone.
Resting by the Stukes by Albert William Ayling, R.C.A. (fl. 1853-92, d. 1905) Watercolour over traces of pencil, heightened with touches of bodycolour and scratching out. Signed. Original artist's label on reverse. 60cm x 90cm. Newly mounted and framed. Albert W. Ayling is known for his landscape and portrait paintings, particularly around North Wales and Snowdonia. His use of light and colour vividly captures the atmosphere of late Victorian England. Ayling is known to have exhibited 128 works at the Royal College of Art, four works at the Royal Academy, also at the Royal Society of Arts, Birmingham, Walker Art Gallery (49), the royal Hibernian Academy (4) and the Royal Institute pf Painters in Watercolours (4). He lived, variously, in London, Liverpool, Conway and Llandudno. This charming view of harvesters resting is typical of AW Ayling's scenes in Snowdonia, the mountains in the distance and the glimpse of a lake.
60 x 90cms
POA
A fine watercolour painting by Edward Walker depicting cows returning to the farmyard. Edward Walker was a multi-talented landscape painter, poster designer, etcher, black and white artist, craft worker and designer who worked in oils, watercolour, tempura and frequently painted rural and town scenes. Walker was born in Bradford on 17th January 1879 and studied at Bradford College of Art from 1895-1900, Royal College of Art 1900-06. He also worked in Holland, Belgium, Spain, Italy and Morocco. He later become Head of the Design Department at Sheffield Technical School of Art where he worked between 1906 and 1908. He then became Head of the Art Department at London County Council Paddington Technical Institute from 1908 to 1911, and thence Director of Art at Cheltenham Ladies College from 1911 to 1920. Finally he took the post of Headmaster at Scarborough School of Art from 1921. Walker exhibited widely including Royal Society of Arts, Birmingham (3) Glasgow Institute of Fine Arts (1) Walker Art Gallery, Liverpool (3) Royal Academy of Arts (28) Royal Society of British Artists (6) Royal Cambrian Academy (1) Royal Institute of Painters in Watercolours (1)
t.b.c.
POA
A fine watercolour painting of Wells Cathedral, Somerset, circa 1900 by Margaret J.Lovell. The backboard of the original frame bears a label with the name of the artist and her address, 18 Hampstead Lane, Highgate, London. Margaret J.Lovell is well recorded as a landscape and coastal painter who exhibited widely from 1899 – 1931. She is known to have shown works at the Royal Academy, The Walker Art Gallery, Liverpool The Royal Society of British Artists, The Royal Institute of Painters in Watercolours, and the Society of Women Artists.
38.5 x 27 cms
POA
This comic watercolour drawing by G.H.Ward depicts a group of various dogs sat around the dinner table, their prim mistress at the top of the table.A cat sits with its bowl disconsolately on the floor. G.H Ward is an artist known to have lived and worked in Nottingham where he exhibited three works at Nottingham Museum and Art Gallery in 1920-21. His works are often humourous and quirky in subject.
20 x 28 cms
Price £250.00
An oil painting on board depicting a pretty Cornish harbour view, signed by the artist. Gilbert Gee is known as having resided at 45 Worcester Lane, Four Oaks, Birmingham during the middle years of the 20th century. He is known to have exhibited three works at The Royal Society of Artists, Birmingham, circa 1940. Gee's paintings often feature fishing villages in Devon and Cornwall and his use of light and colour echoes the work of the St Ives School. He also painted landscape scenes around his native Staffordshire. This bright and vibrant work is presented recently framed and in excellent condition.
49 x 59cms
POA
Amiens Cathedral, a painting in watercolour, signed Frank Evans. Frank Evans was a Birmingham artist who worked for Harrison & Cox, the architectural company with offices at 109 Colmore Row, Birmingham. Harrison & Cox were involved in the design and building on a number of well-known churches in the Midlands in the mid-20th century. It seems likely that Frank Evans, who is known to have worked for the practice, was interested in church architecture. He exhibited one work at the Royal Society of Artists, Birmingham in 1922.
38.5 x 20cms
POA
A watercolour painting depicting Rievaulx Abbey, Yorkshire, by Edgar John Varley (1839-1888). A large and impressive work by the son of Charles Varley and grandson of the celebrated John Varley. Rievaulx Abbey is shown in the distance while a drover meets a maid on the farm track in the foreground. Edgar John Varley exhibited in London and elsewhere from 1861. He was Curator of the Archeological Museum in Westminster. Examples of his work can be seen in the Victoria & Albert Museum and Portsmouth City Museum. Almost certainly an exhibition piece, this pristine watercolour shows all the confidence and characteristics of the Varley family – one of the best-known groups of artists of the English School. The old labels on the verso give a precise history of this picture – back to when it was first purchased directly from the artist in 1871. Rievaulx Abbey Rievaulx was the first Cistercian Abbey to be founded in the North of England and became one of the most powerful monasteries in Europe. The atmospheric ruins were once home to the greatest spiritual writer of the Medieval Ages, St Aelred, who described it as 'everywhere peace, everywhere serenity, and a freedom from the tumult of the world'. A special exhibition examines the commercial activities of the monks and shows how religion blended with business, with the Abbey at the centre of a medieval-style industrial revolution.
44.5 x 60.5cms (without frame and mount)
POA
Early Morning on the Flats by Claude Marks, oil on canvas, circa 1900. Signed. Claude Marks was an accomplished painter in oils who is recorded as living in London in 1899 and 1915, and in Paris in 1908. He exhibited five works at the Walker Art Gallery, Liverpool, eight works at the London Salon, one at the Royal Academy and two at the Royal Institute of Oil Painters.
80x40cms
Please ring Duncan Phillips on 07980 832639 for details
A fine illustrative watercolour drawing by Edward Brice Stanley Montefiore The Suitor Makes A Call. Signed. Montifiore was a landscape and genre painter who lived in London in 1880, then at Newnham in Gloucestershire in 1909. He exhibited three works at Manchester City Art Gallery, nine at The Royal Academy of Art and three at The Royal Institute of Oil Painters. This work is likely to be an illustration for a book or magazine. He contributed regularly to The Illustrated Sporting & Dramatic News.
24.5 x 20.3cms.
Please ring Duncan Phillips on 07980 832639 for details
Edward Walker - Gathering the Logs. A watercolour and chalk drawing. Edward Walker is a well recorded artists and was an Associate of the Royal College of Art (A.R.C.A.) Walker was a multi-talented landscape painter, poster designer, etcher, black and white artist, craft worker and designer who worked in oils, watercolour, tempura and frequently painted rural and town scenes. Born in Bradford on 17th January 1879 and studied at Bradford College of Art from 1895-1900, Royal College of Art 1900-06. He also worked in Holland, Belgium, Spain, Italy and Morocco. Walker was Head of the Design Department at Sheffield Technical School of Art where he worked between 1906 and 1908. He became Head of the Art Department at London County Council Paddington Technical Institute from 1908 to 1911, and thence Director of Art at Cheltenham Ladies College from 1911 to 1920. Finally he took the post of Headmaster at Scarborough School of Art from 1921. Exhibited widely including Royal Society of Arts, Birmingham (3) Glasgow Institute of Fine Arts (1) Walker Art Gallery, Liverpool (3) Royal Academy of Arts (28) Royal Society of British Artists (6) Royal Cambrian Academy (1) Royal Institute of Painters in Watercolours (1)
26x34cms
Please ring Duncan Phillips on 07980 832639 for details
Page :
1
2
Next